Hana Vyšínská
violin
Hana was born in the WAC . Since 1990 he lives in Prague , where she started singing first and shortly afterwards the violin . She studied music on arts high school , and since 2005 has been a student of the violin class Dany Vlachová ( member of Czech Trio ) at the Prague Conservatory. Conservatory, graduating in 2011. During her studies she attended musicology at Charles University in Prague . At this time he also started playing the violin and acoustic sound interested in recording technology. From missing just one step away to the electric violin.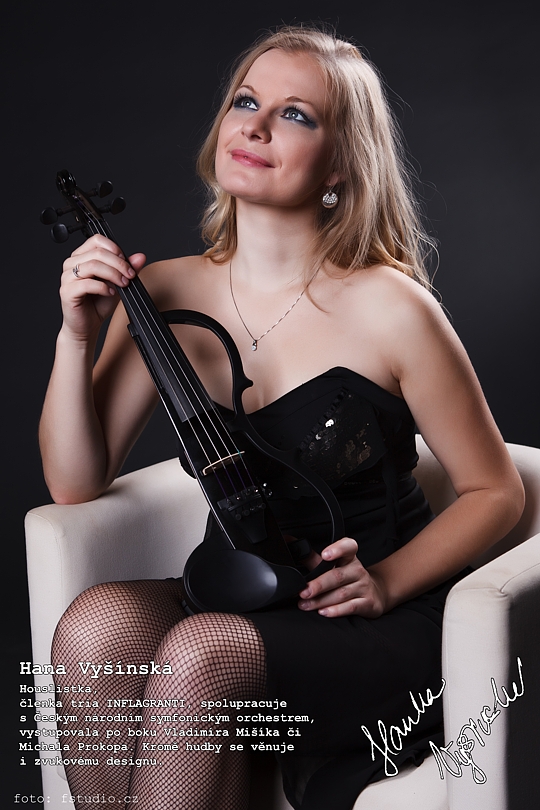 She has participated in many competitions , master classes and seminars. It is a popular violinist . As a guest of her on his birthday concert in 2012 invited Vladimir Mišík , recorded violin on board 5P Lubos Pospisil and Elizabeth Ptáčková . She has toured with K. Gott , D. Koller , H. Vondracek , M. David , J. Svěcený , V. Merta , or under the direction of J. Belohlavek , L. Pesek and E. Morricone . Several seasons was a concert master at orchestral courses in Germany, led by Danish prof . Hans Erik Deckert . In the years 2005 - 2008 was an orchestra conductor Summer Musical Youth .
The interest in sound engineering it from the electric violin led up to FAMU , where since 2011 a student of sound creation . In addition to the trio Inflagranti operates in the author's folk- rock band conductors and occasionally cooperates with the Czech National Symphony Orchestra.
The popular violinists especially admires Czech pioneer of electric violin Jana Hruby and cross - overového German violinist David Garrett .